The WB02 is our newest, thoroughly developed nut butter mill. An incredibly powerful machine which grinds whole nuts and peanuts into nut butter in mere seconds. Completely developed and produced in the Netherlands, this nut butter mill consists of high-quality components and grinds a wide range of whole nuts and peanuts. It has the highest hygiene standard, so safe to use for any type of business.
All moving parts are completely made of solid stainless steel

Grinds whole nuts as easily as large pieces of nuts

Has an option for crunchy butter, grinds smooth butter by default

Easy cleaning

Worldwide Shipping
Technical specifications
| | |
| --- | --- |
| Plug | European and United Kingdom plug |
| Weight | 36 kg |
| Depth | 40 cm |
| Height without hopper | 31 cm |
| Height with hopper | 56 cm |
| Voltage | 220-240 Volt |
| Ampère | 8.56 A |
| Watt | 1.5 kW |
| Horsepower | 1.8 Hp |
| Screws | Metric system |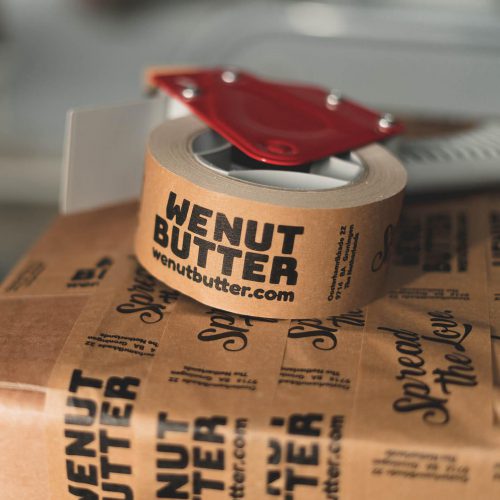 Worldwide Shipping
The Netherlands is such a small country, we are used to crossing borders. We have experience in supplying our machines in Europe as well as Worldwide. We use either road transport, sea freight or air freight for delivery depending on your country, your requirements or the desired speed for delivery. 
When you request a quote, we will always consult with you about this.
Spread the Love worldwide!
Frequently Asked Questions
Is the machine safe to use?

Incredibly safe. There's a start/release button on the front of the machine, which the customer can use. At the rear of the machine, there's an on/off button, which can completely shut off power to the motor. Therefore two additional steps are required to activate the machine. This also means there are two easily accessible buttons to shut down the machine in case of unexpected emergency.

Is the machine safe to use for processing foods?

It is incredibly safe. All moving parts are 100% inox, the machine is therefore very suited for use in stores as well as other branches such as hotels. Inox provides as secure, hygienic and health-centered nut butter mill.

Can I safely allow my customers to operate the machine?

Absolutely. 

The machine can be configured with a start-release button, which stops the grinding process when released. All moving parts of the machine are entirely enclosed in the chassis, therefore you could not reach them with your fingers without taking the machine apart first. 

How much time does it cost to clean the machine?

Cleaning the machine is not at all time consuming. You will be done in no more than 10 minutes. The machine will be completely cleaned and ready to use. Check out our instructional video for a step by step guide for cleaning your WEnutbutter machine.

Is the machine difficult to take apart?

All parts fit together in a very straightforward manner. This means the machine is very easy to take apart and put together again. Our instructional video should clear up any potential confusion. 

How frequently should I replace machine parts?

Effectively never. Our parts are of such high quality that regular cleaning is the only required maintenance. Should a part get lost, we'll send you a replacement post-haste. 

Can I use the machine for grinding all types of nuts?

Absolutely, our manual contains recommendations regarding nuts. All nuts smaller - in length and diameter - than 22 to 24mm can be used without issue.

Can I use raw nuts for grinding?

We recommend roasting or burning nuts just before placing them in the hopper for the best, most easily spreadable paste. Ground raw nuts lead to a less spreadable result.

What is the machine's price?

You can request a price by filling in the quotation request form. We'll send you a custom quotation, taking in consideration shipping fees etc.